'Slipped Disc' FAQs
Anatomy of the spine
The spine needs to be both strong and flexible, and therefore consists of strong bones – the vertebrae – separated by flexible soft tissues – the intervertebral discs and facet joints (Fig. 1).
The bodies of the vertebrae are at the front, the facet joints, laminae and spinous processes are at the back, and the spinal cord and the nerves are protected in between them.
The intervertebral discs are between the vertebral bodies and act as shock absorbers. They have a tough outer ring called the annulus fibrosus and a jelly-like centre called the nucleus pulposus (Fig. 2A).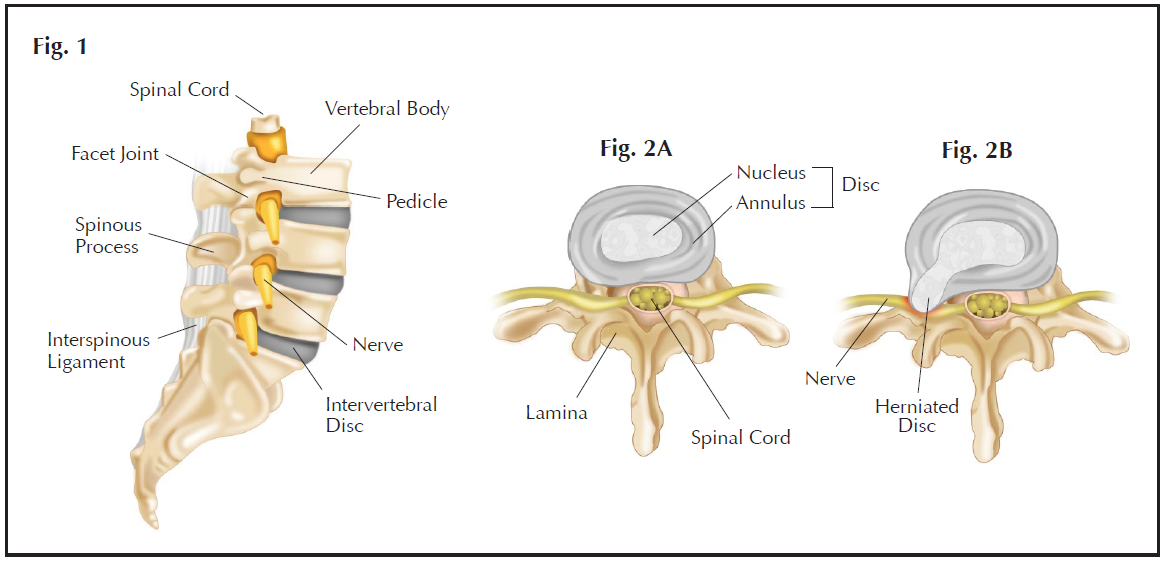 Fig. 1  Anatomy of the spine showing: the lumbar vertebrae; intervertebral discs; spinal cord and nerves; pedicles; facet joints; spinous processes and interspinous ligaments. The laminae are not visible in this side view.
Fig. 2A  Normal intervertebral disc.
Fig. 2B  A "slipped disc" – the annulus fibrosus has torn and the nucleus pulposus has herniated through the tear, compressing a lumbar spinal nerve, which could cause pain in the nerve's territory - the symptom of sciatica.
< 
What is a 'slipped disc'?
'Slipped disc' is a colloquial term for a burst (or prolapse or herniation) of the intervertebral disc. This is much like a jam doughnut bursting and the jam coming out. From early adulthood, the annulus fibrosus becomes weaker[1]. As a result, the intervertebral disc is more vulnerable to the pressure of the body's weight. If the annulus fibrosus tears, the jelly like nucleus pulposus leaks out to become a herniated disc (Fig. 2B).
If a herniated disc compresses on the nerves, it may cause pain, tingling, numbness or weakness of the leg, symptoms known as sciatica. Patients may also experience back pain with a herniated disc, although back pain can have many causes other than a herniated disc.